Victoria sponge
---
Prep time: 15 mins
Total time: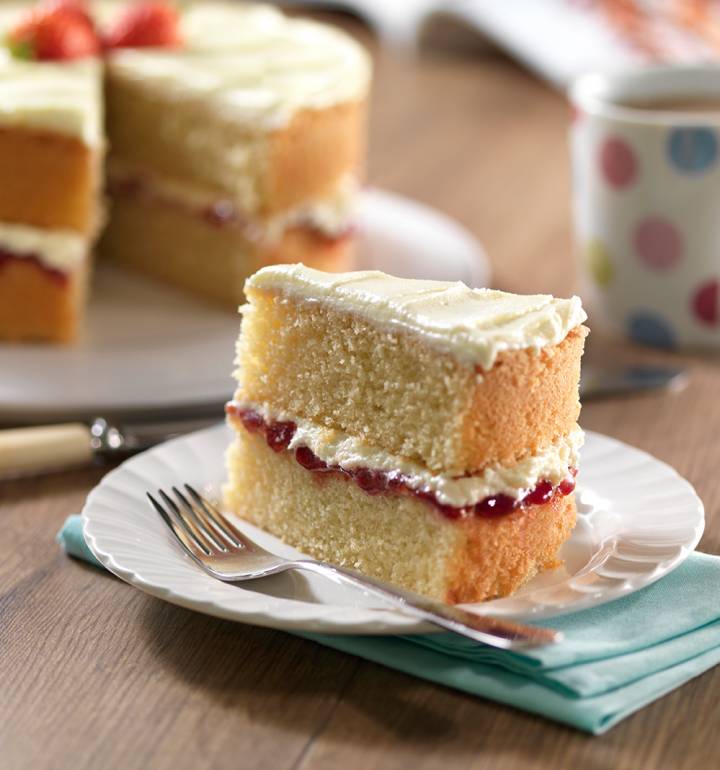 Victoria sponge
---
Prep time: 15 mins
Total time:
---
See more recipes
Ingredients
225g Stork Orignal Spread
225g caster sugar
4 medium eggs
225g self-raising flour, sieved
1 level tsp baking powder
For the filling
225g icing sugar, sieved
85g Stork Original Spread
1-2 tbsp milk
1/4 tsp vanilla essence
3 tbsp jam
To decorate
a handful of fresh strawberries
a sprinkle of icing sugar
Step by step
Preheat the oven to 170°C, fan 150°C, gas 3. Place all of the cake ingredients in a mixing bowl and beat with a wooden spoon until well-mixed.
Divide the mixture between 2 greased and bottom-lined 20cm sandwich tins and bake in the centre of the oven for 30-35 minutes. Once cooked, turn out the cakes, remove the paper and leave to cool on a cooling rack.
To make the filling, mix the milk with the vanilla essence, add the icing and Stork and beat until smooth. Spread the jam on the bottom of one of the cakes, top with the filling, reserving a little for the top of the cake. Sandwich the second sponge on top, spread the reserved filling on top and decorate with strawberries. Dust with a little icing sugar.

Fancy a change? To put your own twist on this classic cake, why not experiment with different fillings? For chocolate, mix together the icing, stork and milk; replace 1 tbsp icing with 2 tbsp cocoa powder, don't add any vanilla essence and then decorate with chocolate swirls instead of strawberries.
Don't miss

---