Hummingbird Bakery red velvet cupcakes
---
Prep time: 1 hr 30 mins
Total time: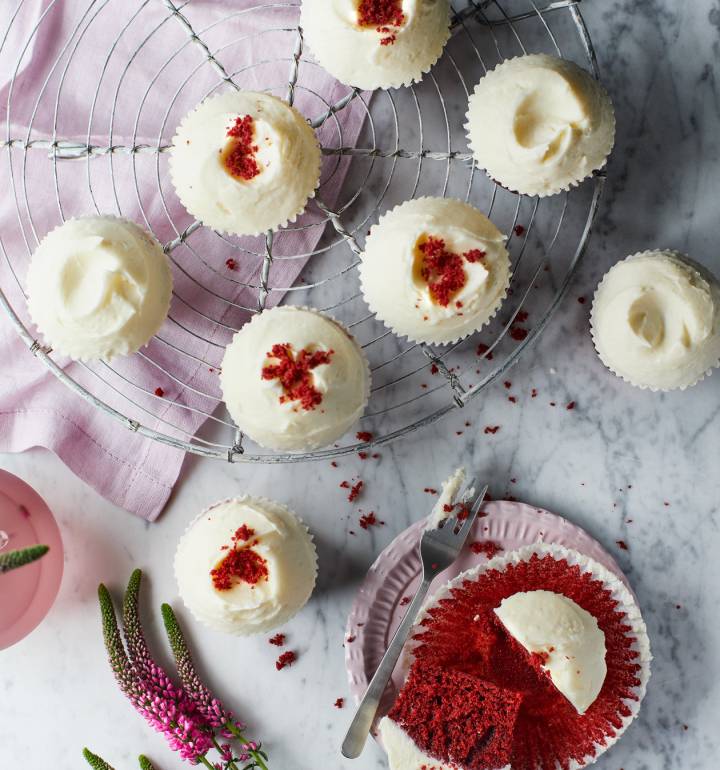 Recipe photograph by Andrew Burton
Hummingbird Bakery red velvet cupcakes
People can't resist Hummingbird Bakery's cupcakes. Here, founder Tarek Malouf shares his step-by-step guide to making the famous bake. Mix all the ingredients well so the sponge has an even colour and texture. To make a red velvet layer cake instead, double the quantities below, divide between three 20cm cake tins and bake for 25 minutes at the same temperature
---
Prep time: 1 hr 30 mins
Total time:
---
See more recipes
---
Nutritional information (per serving)
---
Ingredients
120g soft unsalted butter
300g caster sugar
2 large eggs
20g cocoa powder
1 tbsp red food-colouring paste*, such as Sugarflair in Red Extra
1 tsp vanilla extract
240ml buttermilk
300g plain flour
1 tsp fine sea salt
1 tsp bicarbonate of soda
3 tsp white vinegar
For the cream-cheese frosting
100g soft unsalted butter
600g icing sugar
250g full-fat soft cheese, chilled
Step by step
The iced cupcakes can be kept for 2 days in an airtight container, and also freeze well
Preheat the oven to 180°C, fan 160°C, gas 4 and divide 16 paper cases between 2 x 12-hole cupcake trays.
Put the butter and the sugar in a free-standing electric mixer with a paddle attachment (or use a handheld electric whisk) and beat on medium speed until light and fluffy.
Turn the mixer up to high speed, slowly add the eggs and beat until well incorporated.
In a separate bowl, mix together the cocoa powder, food-colouring paste, 3 tablespoons of water and vanilla extract to make a thick, dark paste. Add to the butter mixture and mix until evenly combined and coloured (scrape any unmixed ingredients from the side of the bowl with a rubber spatula).
Turn the mixer down to slow speed and slowly pour in half the buttermilk. Beat until well mixed, then add half the flour, and beat until well incorporated. Repeat this process until all the buttermilk and flour have been added. Scrape down the side of the bowl again. Turn the mixer up to high speed and beat until you have a smooth, even mixture. Turn the mixer down to low speed and add the salt, bicarbonate of soda and vinegar. Beat until well mixed, then turn up the speed again and beat for a couple more minutes.
Divide evenly between the paper cases and bake in the preheated oven for 20–25 minutes, or until the sponge bounces back when touched. A skewer inserted in the centre should come out clean. Leave the cupcakes to cool for about 15 minutes in the trays before turning out onto a wire cooling rack to cool completely
While the cupcakes are cooling, make the frosting. Beat the butter and icing sugar together in a free- standing mixer with a paddle attachment (or use a handheld electric whisk) on a medium-slow speed until the mixture comes together and is well mixed – cover with a tea towel to stop the icing sugar going everywhere. It will have a sandy texture. Add the soft cheese all in one go and beat until fully incorporated. Turn the mixer up to a medium-high speed. Continue beating until the frosting is light and fluffy - at least 5 minutes - but do not overbeat, as it can quickly become runny.
See tip below if you want to sprinkle the tops with crumbs. When the cupcakes are cold, spoon the frosting onto each one, gently smoothing over with a palette knife and making a swirl of frosting on each one.

For the classic decoration, trim a little off the top of each cooled cupcake before icing, and crumble finely into a bowl. After you've frosted the cakes, scatter with these red velvet crumbs.

For a really strong shade of red, food-colouring paste is best, and Sugarflair pastes (sugarflair.com) are suitable for vegans. Alternatively, you could use a 15g tube of Dr Oetker Extra Strong Red Food Colour Gel (available in store) mixed with 2 tablespoons of water, although the colour won't be as intense.
Don't miss

---