Cherry brownie cheesecake loaf
---
Prep time: 45 mins
Total time: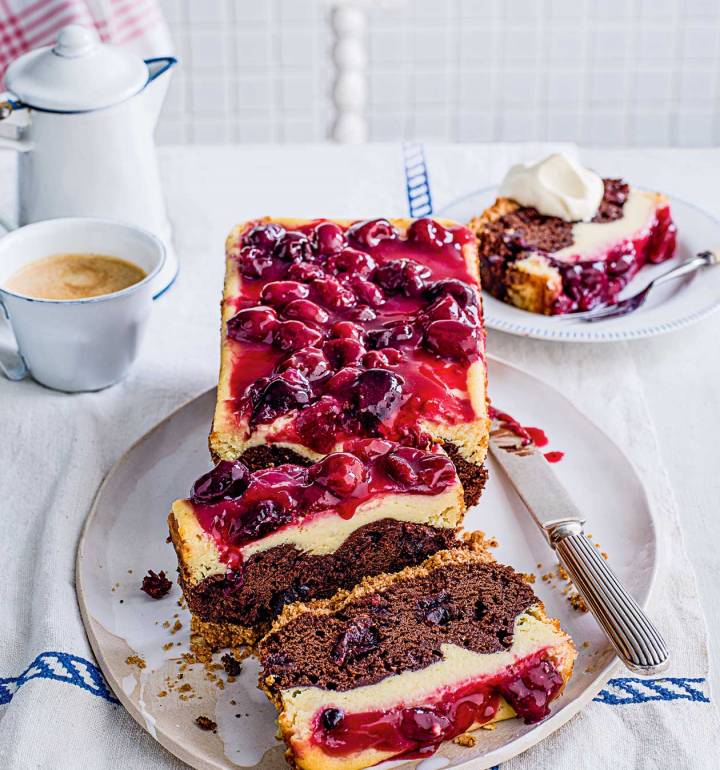 Recipe photograph by Ant Duncan
Cherry brownie cheesecake loaf
This cherry brownie cheesecake is a combination of our favourite desserts in one easy-to-slice loaf cake
---
Prep time: 45 mins
Total time:
---
See more recipes
---
Nutritional information (per serving)
---
Ingredients
For the base
40g butter
100g digestive biscuits, crushed
For the brownie layer
50ml milk
25g butter
40g dark chocolate (about 50% cocoa solids), chopped
1 large egg, beaten
120g caster sugar
½ tsp vanilla extract
60g plain flour
30g cocoa
½ tsp baking powder
40g dried sour cherries
For the cheesecake layer
150g full-fat soft cheese, at room temperature
100g double cream, plus extra to serve
80g caster sugar
½ tsp vanilla extract
1 large egg, beaten
1 tbsp plain flour
For the cherry topping
150g frozen cherries
1 tsp cornflour
2 tbsp caster sugar
Step by step
Leftovers keep for up to 3 days in the fridge.
Grease and line a 900g loaf tin (10cm x 20cm base) with baking paper so that it overlaps the edges of the tin. To make the base, melt the butter and combine with the crushed biscuits. Press into the base of the prepared loaf tin and chill while you make the brownie layer. Preheat the oven to 180°C, fan 160°C, gas 4.
Gently heat the milk and butter in a pan until the butter has melted. Remove from the heat, add the chocolate and stir until melted. Beat the egg, sugar and vanilla in a mixing bowl until thick and pale, then beat in the chocolate mixture. Sift in the flour, cocoa and baking powder; fold in, adding the dried cherries. Pour on top of the chilled biscuit base and bake for just 10 minutes.
Meanwhile, make the cheesecake layer. Beat the soft cheese, double cream, sugar and vanilla until smooth, then mix in the egg and flour. Pour over the brownie layer and bake for 35-40 minutes or until set but still with a slight wobble in the middle. Remove from the oven and leave to cool in the tin for at least 45 minutes – the centre should sink as it cools.
For the cherry topping, put all the ingredients in a pan with 2 tablespoons of water. Bring to the boil, stirring, and cook for 1–2 minutes until the sauce thickens. Spoon over the cheesecake layer and leave to cool. Cover and chill for at least 2 hours.
Use the lining paper to carefully lift the cheesecake loaf from the tin. Slice to serve.
Don't miss

---