Cherry bakewell pancakes
---
Prep time: 15 minutes
Total time: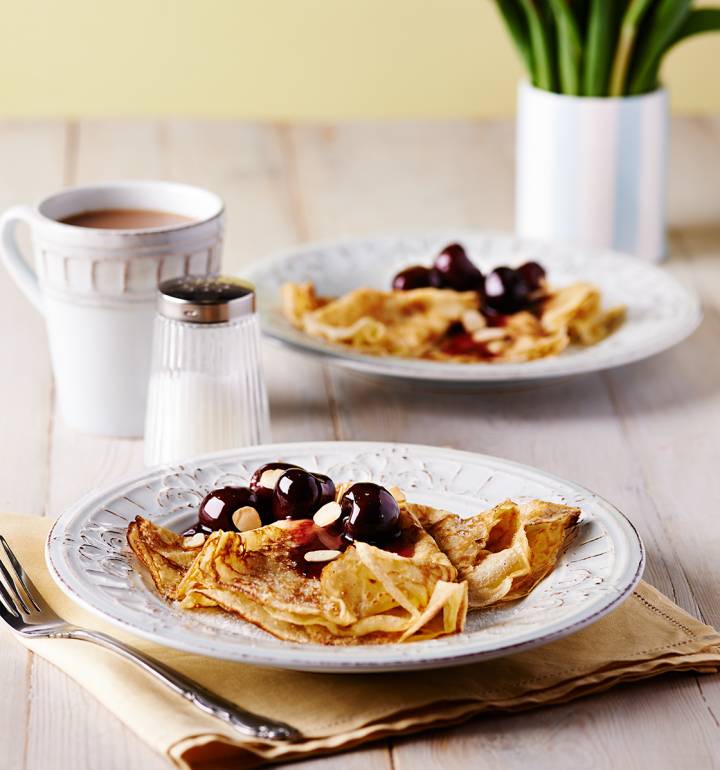 Cherry bakewell pancakes
---
Prep time: 15 minutes
Total time:
---
See more recipes
Ingredients
For the pancakes
100g plain flour
1 large egg
275ml British semi-skimmed milk
1 tbsp vegetable oil
For the sauce
200g fresh cherries, pitted
2 tbsp Splenda Cake Can, plus extra to serve
150ml water
1 1/2 tsp arrowroot mixed with 2 tsp water
1/2 tsp almond extract
2 tbsp toasted flaked almonds, to serve
Step by step
Sift the flour into a large mixing bowl. Add the egg and milk, and whisk for a few minutes until you have a smooth batter. Pour into a jug, cover and leave to stand for 20 minutes – this allows the starch grains in the flour to soften and swell which gives a lighter batter.

After 20 minutes, check the batter. It should have a consistency of single cream, so whisk in a little cold water if necessary.

Meanwhile, in a pan, add the cherries, 50ml water and Splenda then cook for 15 minutes until softened. Add the rest of the water and the arrowroot mixture and bring to the boil until thickened, then take off the heat and add the almond extract.

Heat a shallow 20cm nonstick frying pan over a medium heat, then brush with a little of the oil. Pour in a ladleful of the batter and tilt the pan so the batter covers the base in a thin layer.

Cook the pancake for about a minute, until the edges start to curl and the base is pale golden. Flip the pancake over using a spatula and cook for a further 30 seconds to 1 minute. Slide the pancake onto a plate lined with baking paper, then repeat with the remaining batter to make 8 pancakes in total, layering with a sheet of baking paper between each one.

To serve, sprinkle a little Splenda on the pancakes, fold 2 onto each plate and top with the cherry sauce and toasted almonds.

Don't miss

---