Breakfast granola
Makes
4
|
prep
20 minutes
|
total time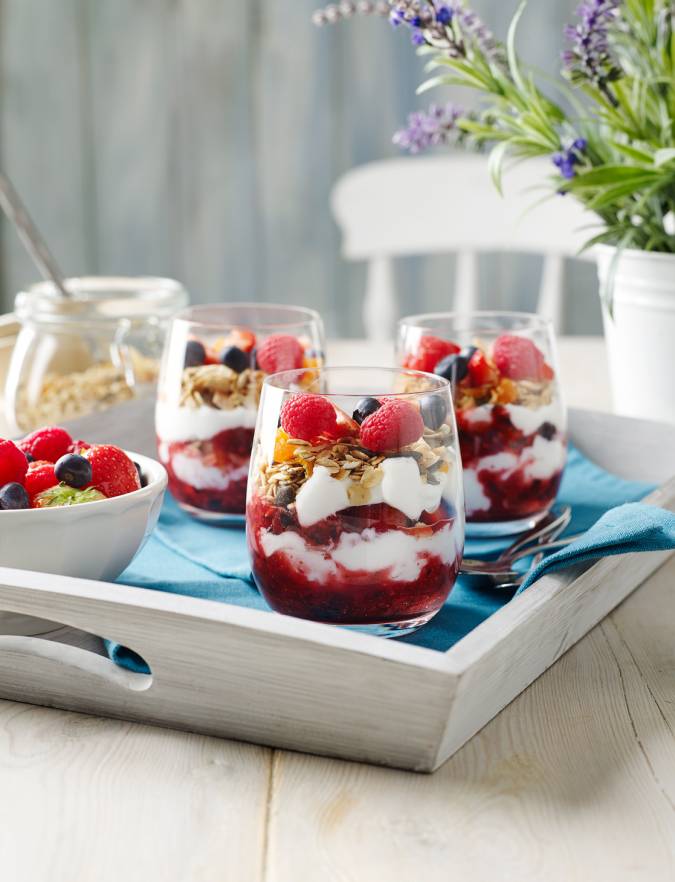 Breakfast granola
Makes
4
|
prep
20 minutes |
total time
Ingredients
For the granola
200g jumbo rolled oats

50g pumpkin seeds

50g flaked almonds

50g coconut shavings

1 egg white, lightly whipped

1 tsp groundnut oil

1 tbsp Truvia® granulated

75g chopped apricots
To make your breakfast pots
125g raspberries

150g strawberries

125g blueberries

1/4 tbsp Truvia® granulated

400g 0% fat Greek yogurt

1 tsp vanilla extract

1 tbsp Truvia® granulated

a handful of raspberries

a handful of blueberries
To make a batch of granola, preheat the oven to 150°C, fan 130°C, gas 2. Mix together the oats, seeds, flaked almonds and coconut shavings. Combine the egg white and oil with the oat mixture. Add the Truvia® and mix well.
Spread out on a large baking sheet and bake for 20 minutes, stirring halfway through, so it colours evenly.
Stir, then add the apricots and bake for another 5 minutes. Remove from the oven and allow to cool before transferring to an airtight container.
To make your breakfast pots, crush the fruit into a rough purée and sweeten with the Truvia®. In a seperate bowl, combine the yogurt, vanilla extract and Truvia® and set to one side.
Spoon a little of the fruit puree into the base of a small tumbler, add a spoonful of the yogurt mixture and then scatter with a little granola and a few whole raspberries. Continue to layer up finishing with granola and raspberries and blueberries.