No-knead porridge bread
Makes
10-12 slices
|
prep
10 mins
|
total time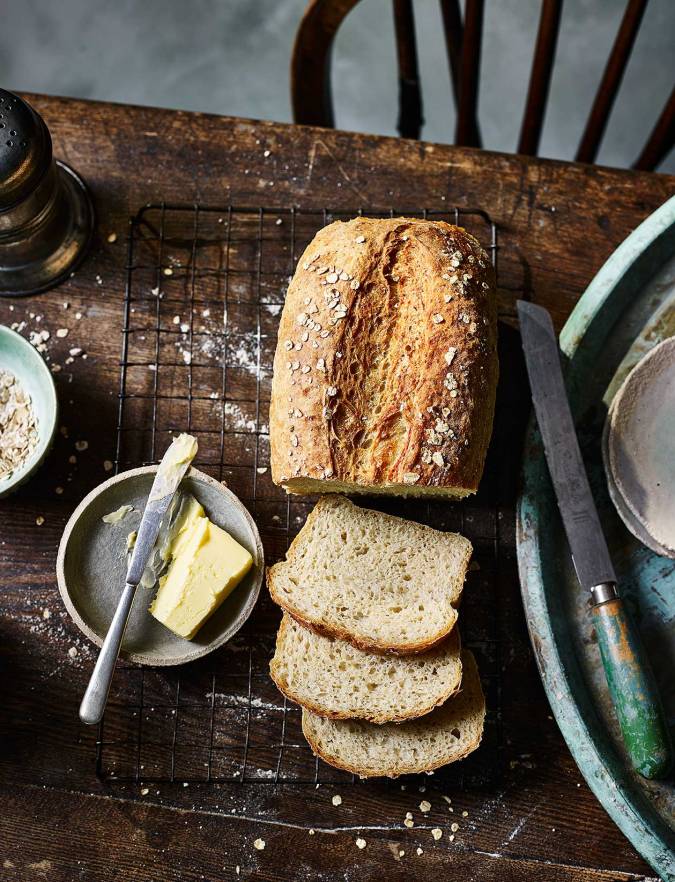 No-knead porridge bread
Subscribe to Sainsbury's magazine
Makes
10-12 slices
|
prep
10 mins |
total time
This unusual loaf is made with porridge left over from breakfast time, and is inspired by a recipe from food writer Claire Thomson, author of The Art Of The Larder. It has a moist texture and crunchy crust, and makes fantastic toast. There's no need for the usual 10 minutes or so of kneading to develop the gluten; instead, the dough is mixed and left to stand. While it rests, the enzymes develop the gluten – less effort for a better structure and flavour!
Nutritional information (per serving)
See more
Ingredients
200g cold cooked porridge (or see tip under step 7)

400g strong white bread flour (or swap in up to 150g strong wholemeal flour)

1 x 7g sachet fast- action yeast

3⁄4 tsp fine sea salt oil, to grease

a handful of whole rolled oats, to sprinkle
Get ahead
The loaf stays fresh for 2-3 days, or can be used for toast for up to 5 days after baking. It also freezes well, sliced.
Weigh the porridge out into a large mixing bowl, then mix in 150ml cold water, until it no longer looks clumpy.
Tip in the flour, yeast and salt, and mix together with a wooden spoon. At this point it will look a bit dry and decidedly lumpy, but have faith and just let it stand for 10 minutes – the flour will start to absorb the moisture.
Give the dough a stir with the spoon, then leave to stand for 10 minutes more. Repeat twice more. By this point, the dough will be quite smooth, stretchy and slightly sticky to the touch. Transfer to a clean oiled bowl, cover with oiled clingfilm or a clean tea towel and leave to rise for about 1 hour (it doesn't need to get as far as doubling in size). The dough will be slightly sticky.
Oil a 900g loaf tin well (line it with a strip of baking paper too if you're not confident it's reliably nonstick). Tip the dough out onto a lightly floured surface and briefly fold and shape into a rough log that will fit the tin – don't worry if it doesn't look perfect.
Transfer to the loaf tin and scatter the top with a few oats – they should stick on easily. Cover the tin and leave the bread to rise for an hour or until it reaches the top of the tin. Meanwhile, preheat the oven to 220°C, fan 200°C, gas 7, with a small roasting tin in the bottom of the oven.
When the bread has proved, uncover it and slash the top with a sharp knife. Put it straight in the oven and add a mugful of water to the roasting tin in the bottom, to create steam and help the initial rise in the oven. Bake for 15 minutes at this temperature, then reduce to 190°C, fan 170°C, gas 5 and bake for another 30 minutes until golden brown and the loaf sounds hollow when tapped. Remove from the tin, and if you like a really crisp crust, bake for another 5 minutes out of the tin.
Let the loaf cool completely before slicing.

Tip If you don't have leftover porridge, cook 60g oats with 100ml milk and 200ml water until thick, adding a pinch of salt, then proceed from step 1.