Seeded beer bread with whipped butter
Makes
1 x 800g loaf (8-10 slices)
|
prep
25 mins
|
total time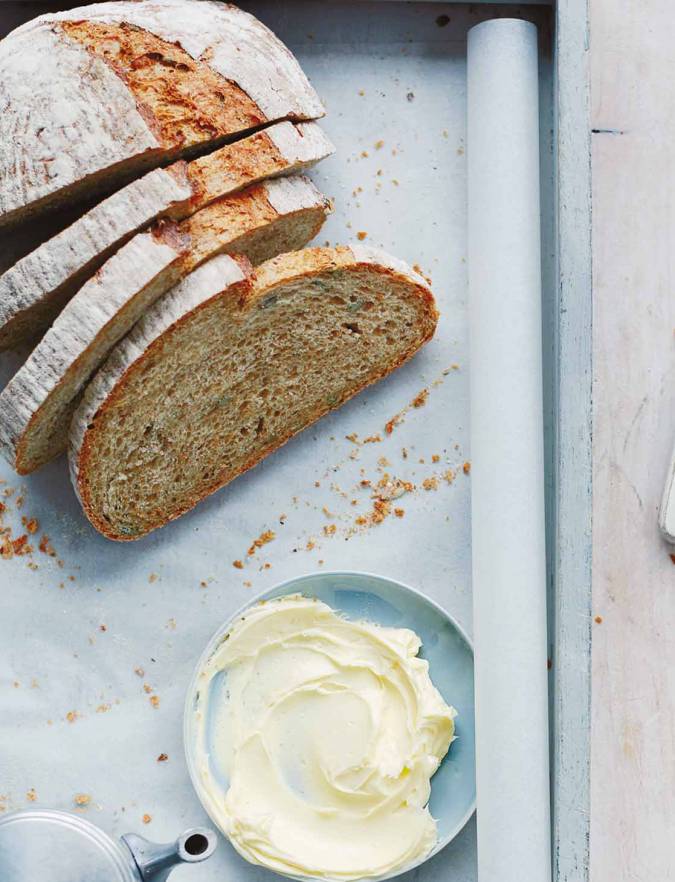 Nutritional information (per serving)
See more
Ingredients
100 g strong wholemeal bread flour

325g strong white bread flour, plus extra for dusting

50g mixed grains (such as oats and cracked wheat)

50g mixed seeds, such as pumpkin, sesame, sunflower

2 tsp fine sea salt

1 x 7g sachet (2tsp) fast-action dried yeast

1 x 330ml bottle pale ale (we used Taste the Difference American pale ale)

a drizzle of oil, for greasing
For the whipped butter (optional)
250g very soft unsalted butter, cubed

large pinch of sea salt flakes, lightly ground
Get ahead
Start this the day before baking. Best eaten on the day it's baked, but it will keep for up to 2 days in an airtight container in a cool place. It can be frozen.
The evening before baking (at least a couple of hours before you go to bed), put all the bread ingredients in a bowl. Mix together, then tip the dough onto a work surface. Knead for 10-15 minutes or until the dough is smooth and elastic. Resist the temptation to add more flour as you work – lightly oil the work surface if you find that the dough is sticking to it. If you would rather use a stand mixer, knead the dough with the dough hook attachment on a low speed for 5-10 minutes or until smooth and elastic. Put the dough in a lightly oiled bowl; cover with clingfilm. Leave at room temperature to rise for 1-2 hours or until doubled in size.
Tip the dough back onto the work surface and shape it into a ball by gently tucking the dough underneath to form a seam (this less attractive side will form the base of the bread). Try not to lose too much of the air formed in the dough while doing this, although you don't need to worry massively if you do. Put the dough onto a floured baking tray with the gathered seam facing downwards. Cover loosely with clingfilm; leave to prove in the fridge overnight. Ensure it's not cramped by items in the fridge, as the dough will grow.
The next day, preheat the oven to as high as it will go. If you have a pizza stone, place this in the oven at the same time. Once the oven is fully preheated, reduce the oven temperature to 220°C, fan 200°C, gas 7. Remove the clingfilm, sprinkle the dough with a little flour, and use a sharp knife to slash the top of the dough quickly in any pattern you want, then place the baking tray and the bread into the oven (on top of the pizza stone, if using, to get extra base heat) and bake for 30 minutes or until the bread is dark in colour and hollow-sounding on the underside when tapped. Leave to cool for a few minutes before transferring to a wire rack to cool completely before slicing.