Rump steak with chilli hollandaise
Serves
6
|
prep
20 mins
|
total time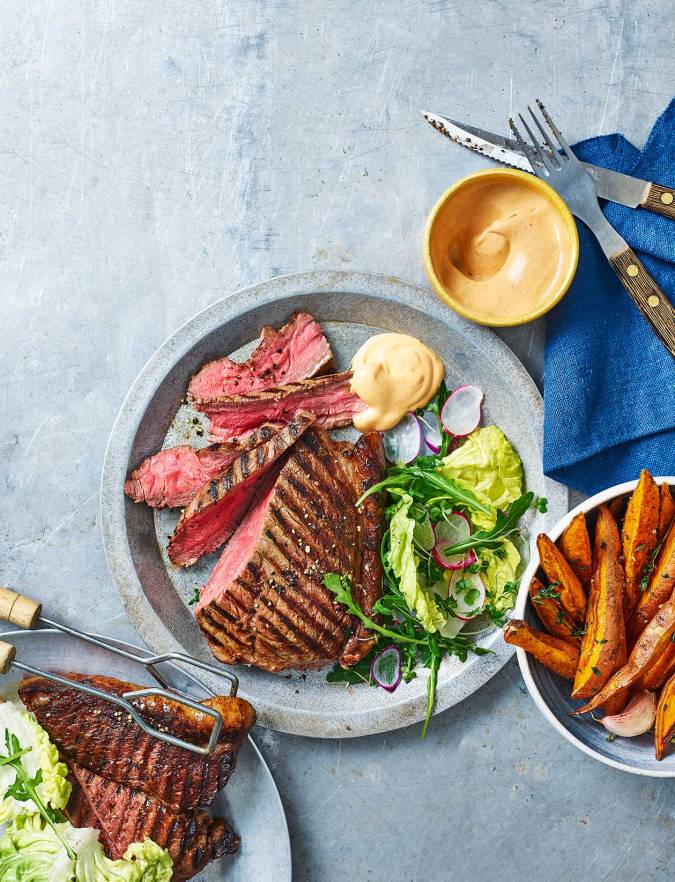 Rump steak with chilli hollandaise
Subscribe to Sainsbury's magazine
Serves
6
|
prep
20 mins |
total time
This delicious steak recipe from London restaurant Blacklock uses its original chilli hollandaise. Perfect with steak, or with pork chops
Nutritional information (per serving)
Ingredients
6 steaks, such as Taste the Difference rump steak
For the chilli hollandaise

1 tbsp sunflower oil

100g shallots, sliced finely

100ml white wine vinegar

1⁄2 tsp black peppercorns, coarsely crushed

250g unsalted butter

4 large egg yolks

2 tbsp sriracha chilli sauce, or to taste
Get ahead
The hollandaise can be made ahead. Gently reheat in a heatproof bowl over a pan of barely simmering water, stirring occasionally. Keeps in the fridge for up to 3 days.
Remove the steaks from the fridge about an hour before cooking, and pat dry with kitchen paper. Set aside to come to room temperature (see cooking tips at the bottom of this recipe).
To make the reduction for the hollandaise, heat the oil in a small pan, add the shallots and cook gently for about 10 minutes until softened but not coloured. Add the vinegar and crushed peppercorns, increase the heat and reduce by about half. Strain through a sieve, you should now have 45-50ml of the reduction; return this to the pan.
To clarify the butter, melt it in a medium pan, letting it come to the boil. Simmer until the white foam has disappeared (this is the milk solids sinking to the bottom) and the bubbling has calmed, which means that the water in the butter has boiled off. Pour off the clear melted butter, leaving behind any solids at the bottom.
Place the egg yolks in a liquidiser with a pinch of salt. Reheat the reduction in a small pan then gradually pour this hot liquid into the liquidiser with the motor running.
Heat up the clarified butter until almost at the boil. Keeping the liquidiser running, slowly add the hot butter in a steady stream until totally incorporated. Add the sriracha to taste and check the seasoning. If the sauce looks too thick, add 2-3 teaspoons of water.
Season and cook your steaks following Blacklock's tips below. If not cooking on a barbecue, use a preheated griddle pan (with your extractor fan on high), and cook to your liking (11⁄2-2 minutes each side for medium-rare). Once the steaks have rested, serve with the warm chilli hollandaise – add the steaks' resting juices to the hollandaise if you like.

Tip 1. Buy good-quality meat – dry-aged meat has the best flavour and texture.

2. Steak thickness is important too – aim for at least 3cm, ideally 3-5cm thick.

3. Bring the steak to room temperature before cooking. This helps to get a nice crust on the steaks and means that they cook more evenly.

4. Don't use any oil when barbecuing or chargrilling steaks. Also, make sure the meat is dry of excess juice before grilling, otherwise it is harder to get a good crust.

5. Season the steak just before cooking; no earlier, as the salt will start drawing out moisture, leaving it dry and tough.

6. Always rest your steaks after cooking. Cover loosely and rest in a warm area for 8-10 minutes to let the meat relax, making it really tender.