Sponsored: Ultimate Prosciutto di Parma sausage rolls
---
Prep time: 20 mins
Total time: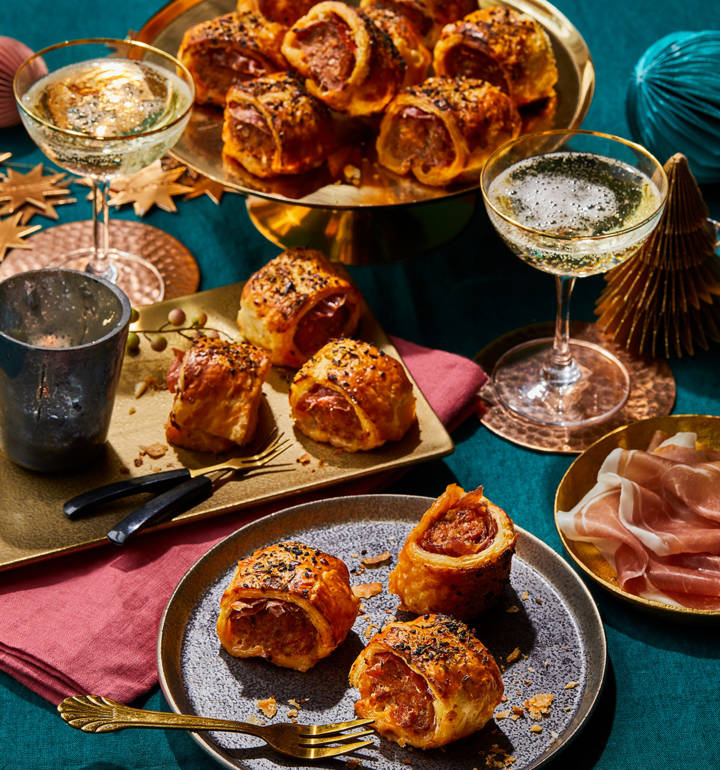 Recipe photograph by Tim Atkins
Sponsored: Ultimate Prosciutto di Parma sausage rolls
---
Prep time: 20 mins
Total time:
---
See more recipes
Ingredients
500g sausage meat, squeezed from about 8 good-quality sausages
1 small red onion, coarsely grated
2 garlic cloves, crushed
2 tsp fennel seeds, lightly crushed
½ tsp chilli flakes
1½ tsp dried oregano
1½ tbsp tomato purée
plain flour, to dust
1 x 320g sheet ready-rolled puff pastry
8 slices Prosciutto di Parma
1 medium egg, beaten
½ tsp nigella seeds (optional)
Step by step
Line a large baking tray with baking paper.
In a bowl, mix together the sausage meat, red onion, garlic, 1½ teaspoons fennel seeds, half of the chilli flakes, 1 teaspoon dried oregano, and the tomato purée, plus seasoning.
Lightly dust a work surface with flour and unroll the pastry. Cut in half lengthways so you have two long strips. Lay out four slices of Prosciutto di Parma on each pastry strip, leaving a 1cm border along the longer edges. Put half of the sausagemeat mixture down the middle of each piece of pastry and shape into a long sausage. Brush one long edge of the pastry with a little of the beaten egg, then fold the pastry over the sausagemeat and press the edges together to seal. Roll over so that the seam is underneath.
Brush the pastry all over with the remaining beaten egg, sprinkle with the rest of the fennel seeds, chilli flakes and dried oregano, plus the nigella seeds, if using. Transfer the rolls to the lined baking tray and pop in the freezer while you preheat the oven to 220°C, fan 200°C, gas 7.
Using a serrated knife, cut each roll into 8 pieces, then bake for 25-30 minutes, until golden, crisp and cooked through. Cool on a wire rack, to avoid soggy bottoms.
Don't miss

---