Sponsored: Chocolate and carrot brownies from Menier
---
Prep time: 30 min
Total time: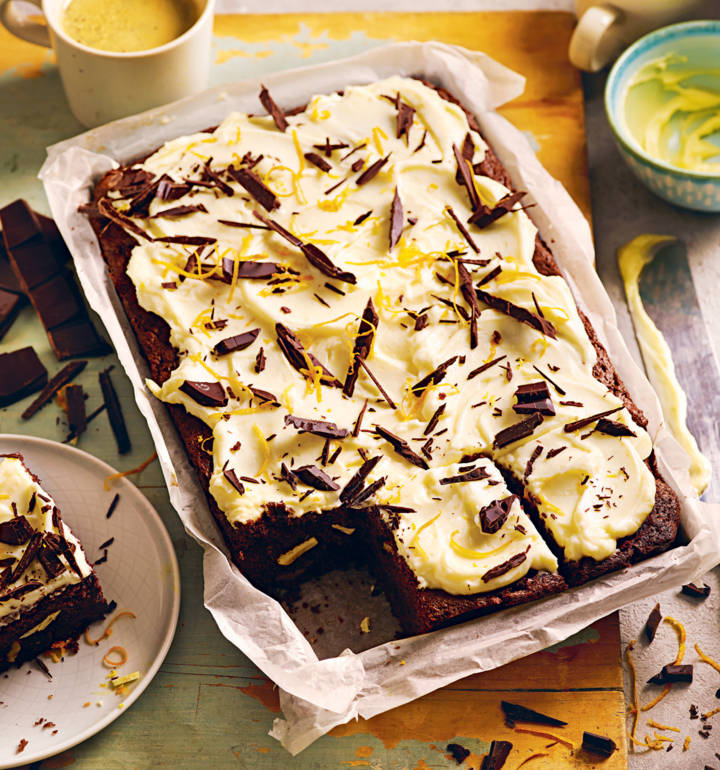 Recipe photograph by Lauren Mclean
Sponsored: Chocolate and carrot brownies from Menier
Brownies and carrot cake in one!
---
Prep time: 30 min
Total time:
---
See more recipes
Ingredients
For the brownies
250g plain flour
60g cocoa powder
1 tsp baking powder
2 tsp ground allspice
200g caster sugar
200g light brown sugar
250g butter, melted
275g natural yogurt
160g Menier 70% Swiss Dark Cooking Chocolate
50g Menier Swiss White Cooking Chocolate
125g carrots, grated, excess water squeezed
75g walnuts, chopped
grated zest of 1 orange
For the frosting
100g soft butter
200g cream cheese
100g icing sugar
25g Menier Swiss White Cooking Chocolate, melted
Step by step
Preheat the oven to 180°C, fan 160°C, gas 4. Line a 20 x 30cm baking tin with baking paper. In a large bowl, combine the flour with the cocoa powder, baking powder, allspice and sugars. Create a well, add the melted butter and yogurt and mix well.
Melt 100g of the dark chocolate in a bain-marie, or microwave in 20 second bursts, stirring between each burst. Mix into the batter using an electric whisk. Shave some of the remaining dark chocolate and set aside for decoration, then break the rest, as well as the white chocolate, into pieces. Stir into the batter with the carrot, walnuts and most of the zest.
Spoon into the prepared tin and level. Bake for 45-50 minutes until a cocktail stick inserted at the edge of the brownies comes out clean – you still want it a little sticky in the middle. Remove from the oven and cool completely in the tin on a wire rack.
For the frosting, use an electric whisk to beat the butter until smooth. Beat in the cream cheese until smooth, then beat in the icing sugar followed by the melted white chocolate. Chill for 30 minutes.
Spread the frosting over the brownies. Decorate with chocolate shavings and the remaining orange zest.
Don't miss

---