Chocolate-dipped gingernuts
---
Prep time: 35 mins
Total time: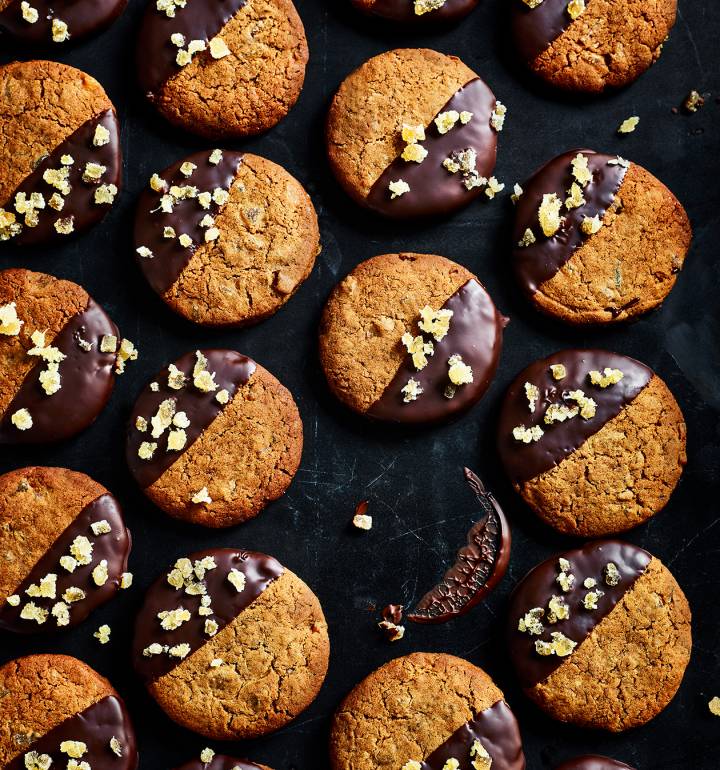 Recipe photograph by Martin Poole
Chocolate-dipped gingernuts
A gingernut for the true ginger lover: sweet and fiery in equal measure
---
Prep time: 35 mins
Total time:
---
See more recipes
---
Nutritional information (Per biscuit (including chocolate))
---


Ingredients
250g plain flour
½ tsp bicarbonate of soda
2 tbsp ground ginger
1 tsp ground allspice
80g demerara sugar
100g room-temperature butter, diced
100g golden syrup
175g stem ginger (8-10 balls), drained and finely chopped, plus 1-2 tbsp syrup from the jar
To decorate (optional)
200g dark chocolate, roughly chopped
about 50g crystallised ginger (or 3 balls stem ginger), finely chopped
Step by step
Plain gingernuts keep for up to 2 weeks in an airtight container; chocolate-dipped for 3-4 days.
Sift the flour, bicarbonate of soda, ginger and allspice into a large mixing bowl with a pinch of salt. Stir in the sugar; rub in the butter to create a breadcrumb-like mix.
Add the golden syrup, the chopped stem ginger and just enough of the ginger syrup to bring the dough together into a ball (you may want to use your hands). Wrap and chill for 1-2 hours in the fridge.
Preheat the oven to 180°C, fan 160°C, gas 4. Line 2 trays with baking paper.
Roll out the biscuit dough on a floured surface to about 1cm thick, then use a 6cm round cutter to stamp out the biscuits. You may need to gather the scraps and re-roll to get the last few biscuits. Transfer onto the trays, spaced slightly apart, and bake for about 25 minutes, until golden-brown. Leave on the trays for 15 minutes to firm up, before transferring to cool on a rack.
If dipping the gingernuts in chocolate, melt the chocolate in a small heatproof bowl over a pan of gently simmering water, stirring occasionally, until glossy. Dip the biscuits a third of the way into the chocolate, and let the excess drip off before placing on a lined tray. Scatter the chopped ginger over the chocolate side and leave to set.
Don't miss

---