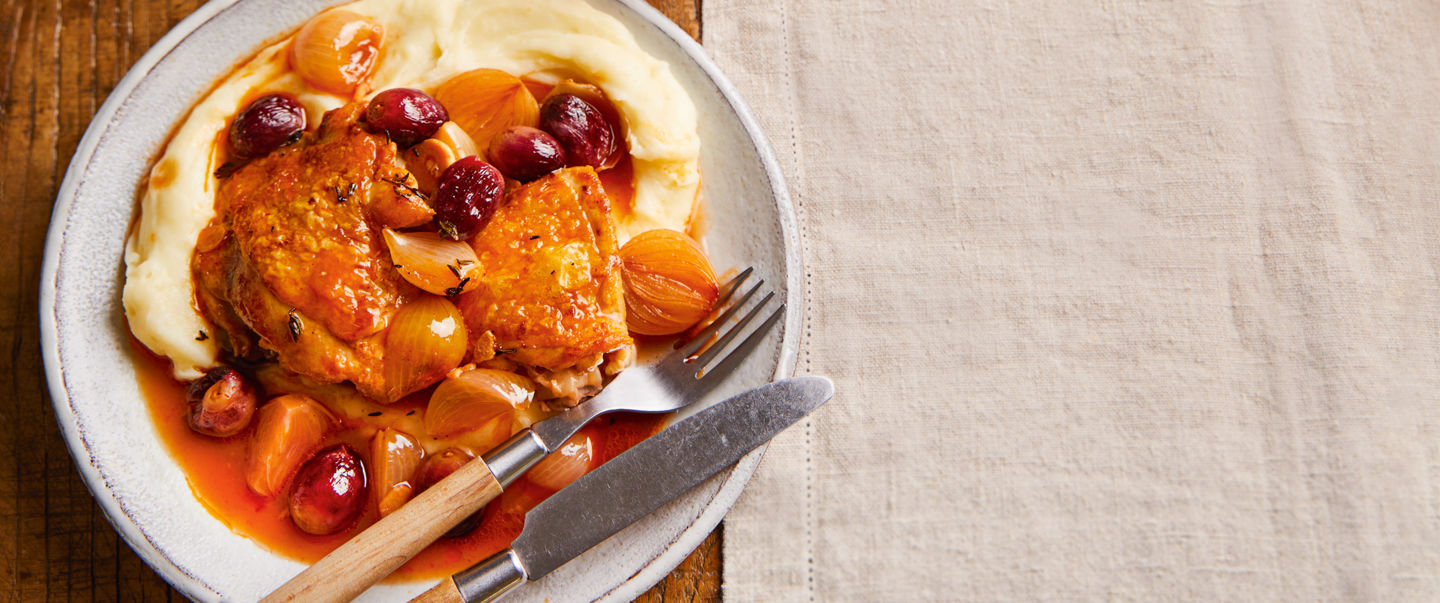 Sponsored
How to make delicious red wine vinegar chicken thighs with Aspalls
A glug of red wine vinegar could be all you need to turn a dinner from drab to fab
We all know that red wine vinegar adds a certain piquancy to salad dressings and marinades. But adding a splash to braised dishes, such as this one, intensifies bold flavours and helps unite all the ingredients so they taste the best possible version of themselves. For more recipes using this Great Taste Award winner, visit aspall.co.uk
ASPALL RED WINE VINEGAR BRAISED CHICKEN THIGHS
Hands-on time: 20mins
Serves: 4
Ingredients
1 tbsp vegetable oil
500g skin-on, bone-in chicken thighs, trimmed of excess fat
200g shallots
3 garlic cloves,finely sliced
1 tbsp lightbrown sugar
1 tbsp tomato purée
4 tbsp Aspall Classic Red Wine Vinegar
300ml chicken stock
6 thyme sprigs
200g red grapes
To serve:
Mashed potato
Steamed green vegetables
Method
Heat the oil in a small flameproof casserole set over a medium-high heat. Add the chicken, skin-side down, and fry for 8-10 minutes, until the skin is golden and crispy. Turn and cook for 4-5 minutes, until browned.
Meanwhile, peel the shallots, keeping the root intact and halve or quarter lengthways, depending on size. Remove the chicken to a plate and add the shallots and garlic to the pan and cook for 4-5 minutes until golden.
Preheat the oven to 200°C, fan 180°C, gas 6.
Stir the sugar, tomato purée and red wine vinegar into the casserole, and cook for 1 minute, then add the stock and thyme. Return the chicken to the casserole, making sure it's half-covered in the liquid. Cover and bring to a brisk simmer. Snip the grapes into small bunches, add these to the casserole then transfer to the oven. Bake, uncovered, for 30-35 minutes, until the chicken is tender.
Serve the brasied chicken with the mashed potato and steamed seasonal greens.
SHOP NOW

Don`t miss

---