Food
The Spices of Life with Cyrus Todiwala
Whether you're a curry connoisseur or a culinary novice, the three basic rules of cooking with spices are to layer, experiment and have fun. But with whole, ground, powdered and crushed varieties within arm's reach, it's easy to get carried away or confused with a crowded kitchen cupboard of seasonings.
Step forward Cyrus Todiwala, the Bombay-born chef patron of Café Spice Namasté in London and one half of the BBC's hit show, The Incredible Spice Men. We caught up with the celebrated chef as he hosted a spiced lamb tasting event to find out his essential spices when it comes to making great food.
I always keep whole cumin seeds to hand.
Cumin is best kept whole – so if you don't use it regularly, buy it whole and grind it into a powder yourself.
Turmeric is at the heart of Indian cuisine.
While it might not add depth to a dish, it's rich in colour and the curcumin in turmeric is said to be a magical ingredient for wellbeing.
Coriander seeds give maximum flavour.
I lightly toast them in a pan and crush them before sprinkling onto fritters or risottos.
Cinnamon is key.
Use it whole by frying first in oil or in its powered form in puddings and marinades.
Cardamom is my favourite spice.
And one that can fill the room with its moreish aroma. When buying green cardamom, look for vivid colour and closed pods.
Cloves are perhaps the most potent of all the spices.
And the most effective of them all. They have an intense flavour, so care needs to be taken when cooking with them.
Peppercorn is king.
Despite being the only spice to have no nutritional value, some people swear by its amazing ability to help fight off colds. Use as desired.
Star anise loves lamb.
It's the perfect meat for spicing. You can make a basic sheekh kebab or burger with minced lamb and all the spices I've mentioned. Add garlic, ginger paste, a couple of fresh herbs and whatever your imagination allows.
Chillies are great for packing a punch to a dish.
But first you need to learn how to work them into your cooking without blowing the top off your guests (or yourself). Experiment with each type until you know which one you like best. Try cutting the tip off the chilli to test its spiciness on your tongue before adding it to a dish.
Cyrus is currently bringing a touch of spice to lamb for tastyeasylamb.co.uk – a European campaign to show how lamb-bidextrous the meat is. And what better way to test this, and his spice kit, than a perfect lamb biryani. Here's one we made earlier.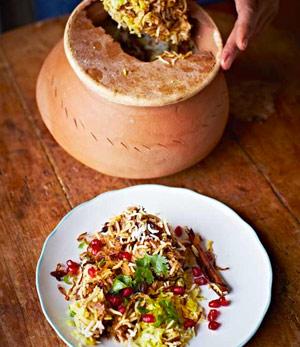 About the author