Food
Shopping with a foodie: Ravneet Gill
by Tom Shepherd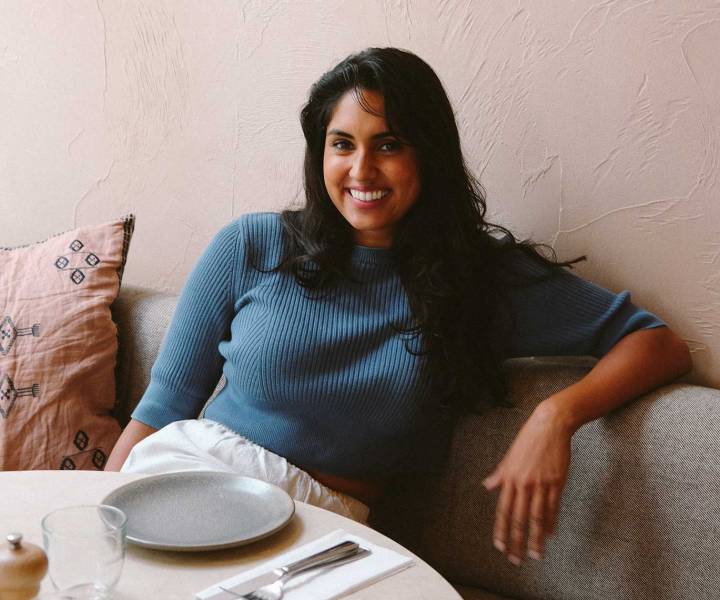 Ravneet Gill, Junior Bake Off judge and author of The Pastry Chef's Guide
We hit the aisles with Ravneet Gill, Junior Bake Off judge and author of The Pastry Chef's Guide
Flaked almonds
When I bake, I often end up with loads of egg whites. So I'll make little financiers and throw lots of flaked almonds on top. They come out looking great.
Philadelphia
During lockdown I was buying all the Philadelphia from the shops because I started making loads of cheesecakes. I'm writing a second book and have a chapter on them!
Green chillies
My mum raised us on them. She puts them in everything, even a roast dinner. Most of our food growing up would just blow your head off because it was full of green chilli. But now I'm slightly addicted.
Kesar mango pulp
In Indian cooking, we use this for everything – like making mango lassi and ice cream. When mangoes are not in season, it's fantastic.
Billington's dark muscovado sugar
Dark brown sugar always adds a deepness to your bake. I use it in my cookies and most of my chocolate cakes. Billington's in particular doesn't clump together in your cupboard; it stays quite soft.
Corriandar
Some people think coriander tastes like soap, which I think is genetic. I can eat mouthfuls of it on everything. I make a Vietnamese prawn salad and put loads in there – with cucumber, mirin, tahini, loads of peanuts and chilli, and lime juice. That is an amazing lunch.
Nielsen-Masey almond extract
This reminds me of Mr Kipling Bakewell tarts, and I grew up on those. I'll add a drop to frangipane or almond pastry because it makes the flavour a bit stronger.
Ravneet is the founder of Countertalk, a platform that connects and supports chefs.
Don`t miss

---