Food
Off the scale fishy ideas
by Sarah Alcock
Restaurateur, fishmonger, food writer and chef Mitch Tonks has inspired us to try cooking more unusual fish at home. The award-winning seafood maestro from The Seahorse in Dartmouth, Devon, taught us this week that coley is so much more than fancy cat food; crab is as versatile as cod; and cobbler isn't just a fruit-based dessert eaten with custard.
Who knew? Here are a few treats to look out for the next time you're passing the Sainsbury's fish counter...
RIVER COBBLER
– It's also called catfish and lives in ponds and rivers.
– It has a mild taste, like cod or haddock, but is a bit meatier and less flaky.
– It's best cooked with spices in a curry and is a great-value option in fishcakes.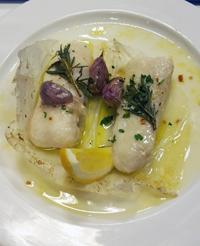 We gobbled down the cobbler
WHAT TO DO WITH IT
Mitch baked it 'en papillote' (in a baking paper parcel) in a hot oven (200°C) with rosemary, garlic, chilli and a dash of white wine. It only takes 10 minutes, so this is a perfect midweek meal served with potatoes and a green salad.
COLEY
– Yes, we used to feed it to our cats, giving it a bit of a bad rep.
– It's a great-value white fish with lovely meaty flakes.
– It's a member of the cod family, but is less white in colour.
WHAT TO DO WITH IT
Mitch served it with a romesco sauce (which is almonds, chillies, garlic, roasted peppers, smoked paprika, oil and sherry vinegar whizzed up). He fried the fish in a pan, skin-side down, before roasting in a hot oven for 5 minutes. The smoky sauce with the delicate fish is delicious!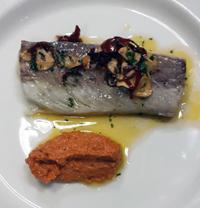 Coley moly it was tasty
CRAB
– You can buy the white meat in tins, but Sainsbury's are now selling fresh crab with brown and white meat from the fish counter.
WHAT TO DO WITH IT
Mitch cooked us this dish (recipe below) and we all agreed that it was absolutely delicious, rich, moreish and totally achievable at home. With Valentine's Day coming up, it would make a really impressive starter to share between two with crusty bread – just halve the recipe. You can buy Taste The Difference part-prepared Scottish crab, 500g, for £6 in store.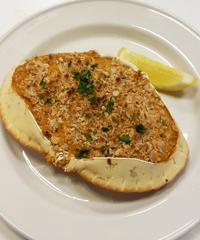 Crab; definitely not drab!
BASQUE-STYLE BAKED BROWN CRAB
Serves 4
100g salted butter
1 small chilli, crushed
2 garlic cloves, crushed
10 tarragon leaves
2 tbsp finely chopped leeks
1 tbsp finely chopped celery
2 tomatoes, skinned and chopped
2 tsp smoked paprika
2 tsp tomato purée
50ml sherry
50ml brandy
100ml good-quality fish stock
2 tbsp double cream
4 cooked brown crabs, all meat (brown and white) picked and top shells retained for serving
small handful fresh breadcrumbs
small handful chopped parsley
1. Add the butter to a large frying pan over a medium heat, then cook the chilli, garlic, tarragon, leeks and celery until soft but not coloured.
2. Turn up the heat and add the tomatoes, paprika and tomato purée, cook for a minute, then add the sherry and brandy ¬– it may ignite, so take care. Boil for a minute. Once the alcohol has gone add the stock, simmering to reduce the liquid by half. Preheat the grill.
3. Add the cream and the crabmeat, cook for a minute to heat through and then season to taste. Put this mixture back into the crab shells.
4. Mix the breadcrumbs with the parsley and sprinkle on top. Put under a hot grill for 1-2 minutes until brown and crispy. Serve immediately.
After step two, you can stir this delicious crab mixture into linguine or a risotto. It's a perfect dinner party main course. Do you have a recipe that you make with these lesser-cooked fish? Share your ideas in the comments box below.
Don`t miss

---