Food
Taking Orders: Freak Scene, London
by Leah Hyslop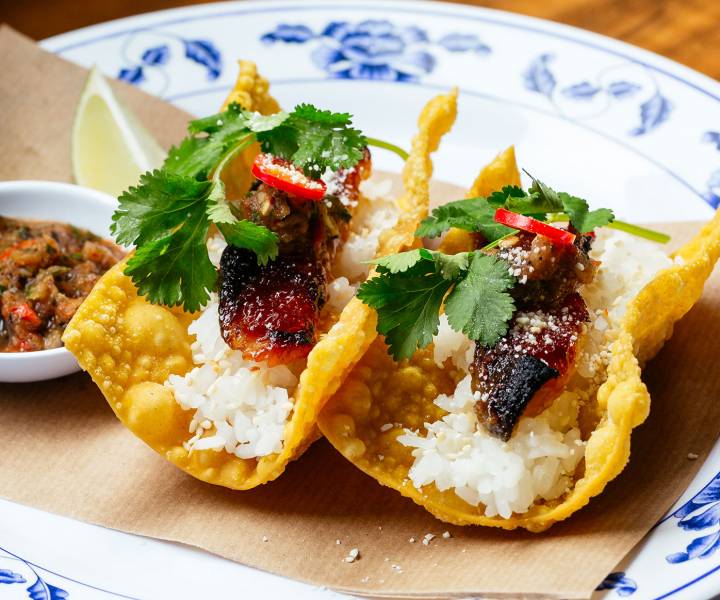 Miso grilled black cod tacos with scorched red chilli salsa
An eclectic mixture of Japanese, Malaysian and Singaporean flavours makes for a wild night out, says food director Leah Hyslop.
Where is it?
Freak Scene began life as a passion project from chef Scott Hallsworth, popping up in Clerkenwell last year. Now, it has found a permanent home in the foodie mecca that is Soho's Frith Street.
What's all the fuss about?
Aussie chef Hallsworth cut his teeth at acclaimed Japanese restaurant Nobu, before going solo. His mini-restaurant chain, Kurobuta, was modelled on Japanese pubs or izakaya, and introduced Londoners to the delights of Japanese junk food – think less wholesome sushi, more deep-fried chicken and wagyu beef burgers. Now he has moved on with Freak Scene, where the menu of 'curious Asian plates' takes inspiration from Japan, Malaysia, Singapore and beyond.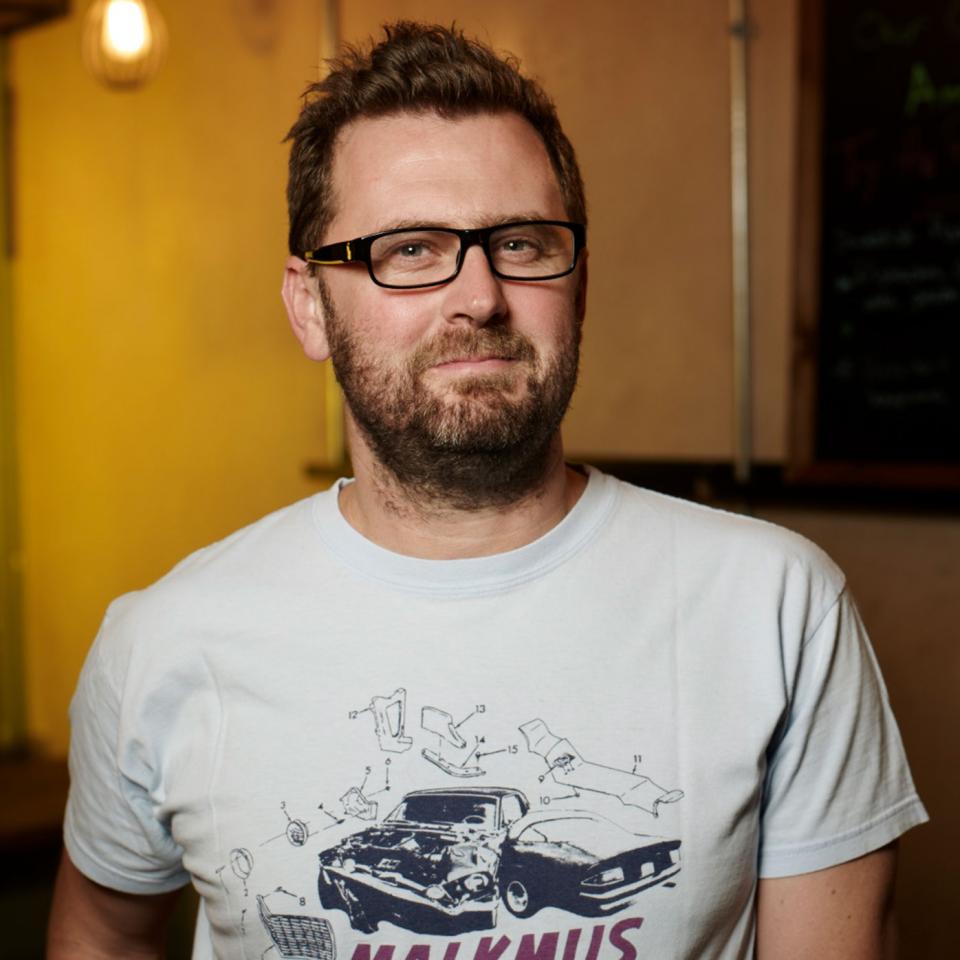 Scott Hallsworth
What's the place like?
Don't even think about going there if you like private tables with crisply pressed tablecloths and comfortable chairs; like all trendy restaurants in London right now, Freak Scene is about perching on high seats at the open kitchen, watching the chefs smash out plate after plate. It's a tiny, slightly grungy space, with clips from cult Japanese game show Takeshi's Castle projected on the wall, and a raucous indie soundtrack.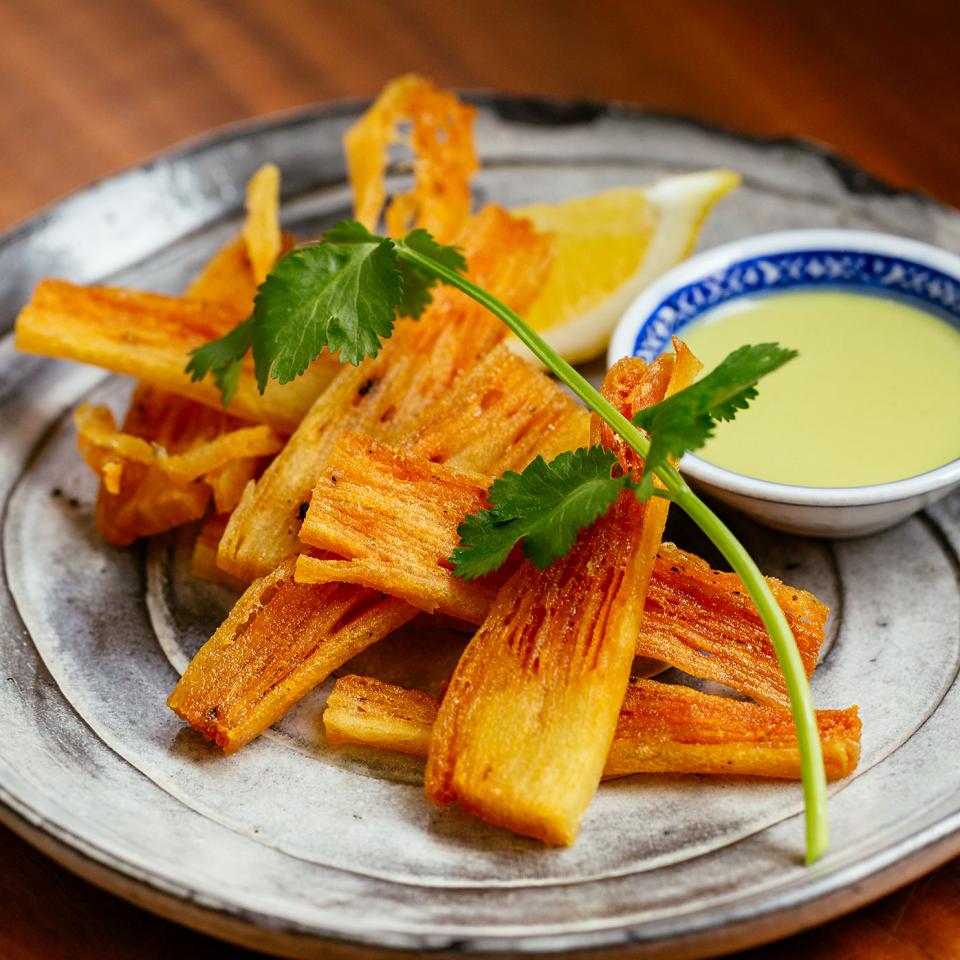 A thousand leaves - house chips with green chilli dip
What did we eat and drink?
Hallsworth has never been afraid to take a cuisine and have some fun. Freak Scene is a giddy carousel of Asian flavours, each plate more surprising than the last. Chilli crab and avocado 'wonton bombs' – a fiery mouthful stuffed inside a crispy wonton wrapper – are so moreish, my guest and I fight over the crunchy crumbs. 'Chicken-fried chicken' – tender chicken fried in chicken fat, drenched in a sticky soy and peanut sauce, and cut through with sharp cucumber pickles – is one of the most delicious things I've eaten all year.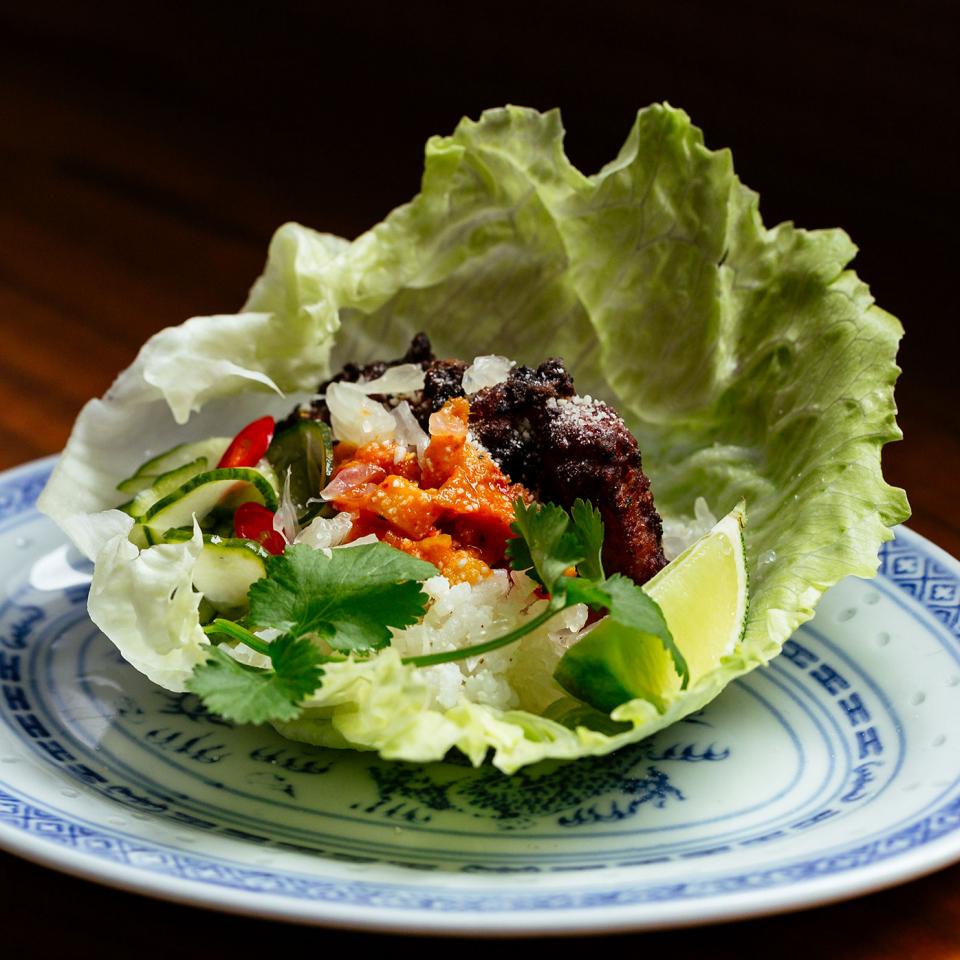 Hoisin grilled pork belly, mussels and chilli jam wrap
Your verdict?
A fun night out – perfect for a date, or a catch-up with a few friends. Order six or so plates to share, and get your freak on.
Lasting memory?
I'll always be sad I didn't have room for dessert.
Don`t miss

---