Food
Dishy Dad Rob Duncan's squash and halloumi curry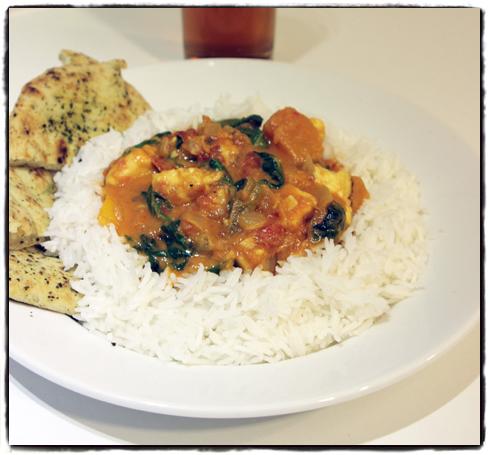 Serves: 5
Rob Duncan was a runner up in our Dishy Dads competition. This is his delicious squash and halloumi curry - a perfect midweek meal.
Ingredients
1 medium-large butternut squash
2.5 tbsp olive oil
3 tbsp sunflower oil
2 onions, finely chopped
1 green pepper, deseeded and chopped into bite-sized chunks
1 yellow pepper, deseeded and chopped into bite-sized chunks
3 garlic cloves, finely chopped
a thumb-sized chunk of ginger, peeled and grated
1 tbsp hot curry powder
6-8 closed cup mushrooms, roughly chopped
1 x 400g tin chopped tomatoes
1 x 250g packet full-fat halloumi, chopped into bite-sized chunks
1 x 400ml tin coconut milk
1 x 100g bag washed spinach leaves
cooked basmati rice and garlic and coriander naan breads, to serve
Method
Preheat the oven to 220°C, fan 200°C, gas 7. Peel the butternut squash and cut into bite-sized chunks, place on a baking tray, drizzle with 2 tablespoons olive oil and roast for 25 minutes, until the corners start to brown.
Meanwhile, heat the sunflower oil in a large saucepan on a medium heat. Add the chopped onion to the pan and sweat for 2-3 minutes. Add the peppers and stir. Turn the heat down and add the garlic and ginger to the pan.
Cook gently until the onions are soft and the peppers translucent - about 10 minutes.
Increase the heat to medium and add the hot curry powder and mushrooms, and season with salt and freshly ground black pepper. Cook for 2-3 minutes, stirring constantly, until the curry spices become aromatic.
Add the roasted squash, chopped tomatoes and a third of a tin of water. Stir, put a lid on the pan and simmer on a low heat for 20 minutes.
Fry the halloumi in a frying pan with half a tablespoon olive oil, tossing until browned all over. Stir into the simmering curry.
Add the coconut milk and spinach leaves to the curry. Bring it back up to a simmer, taste for seasoning and cook very gently for just a couple of minutes until the spinach has wilted.
Serve with rice and toasted mini garlic and coriander naan breads, and a glass of beer.
About the author