Rukmini Iyer's Korean-style barbecue chicken traybake
Serves
4
|
prep
15 mins
|
total time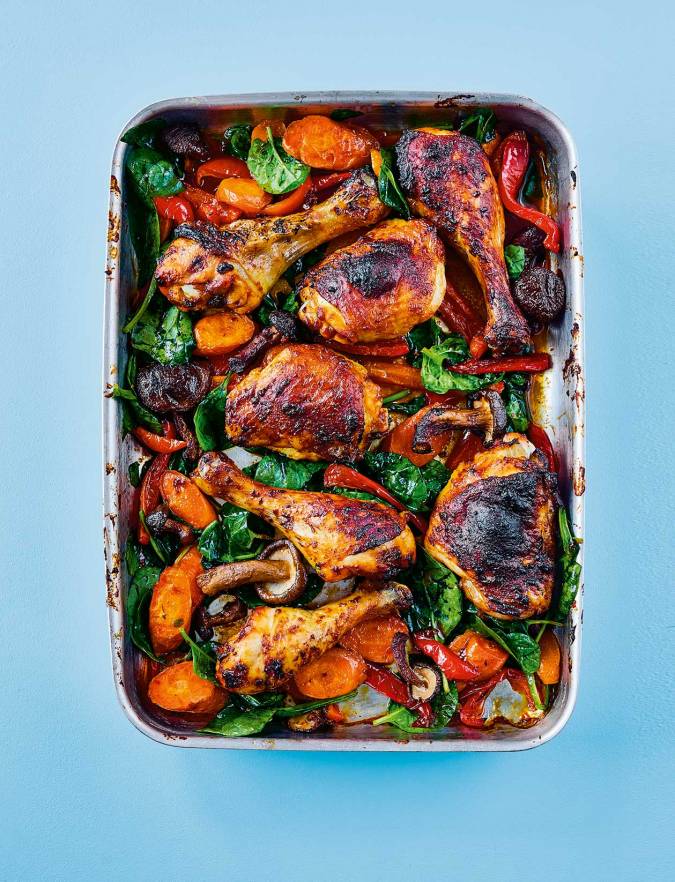 Nutritional information (per serving)
Ingredients
3 carrots, thickly sliced

2 red peppers, thickly sliced

125g shiitake mushrooms, whole

3 tbsp sesame oil

2 tsp gochujang (Korean red pepper paste)

1 heaped tsp doenjang (Korean fermented soybean paste) or miso paste

1kg free-range chicken thighs and drumsticks (2 per person)

3–4 big handfuls of fresh spinach leaves, about 100g
Preheat the oven to 190°C, fan 170°C, gas 5.
Tip the carrots, peppers, shiitake mushrooms and 1 tablespoon of sesame oil into a roasting tin big enough to hold everything in one layer.
In a large bowl, mix the remaining 2 tablespoons of sesame oil, the gochujang and the doenjang or miso together, then drop in the chicken pieces and coat thoroughly. Lay them over the vegetables, then transfer the tin to the oven and roast for 1 hour, until the skin is burnished and crispy and the chicken is cooked through.
Take the tin out of the oven and immediately add the spinach leaves, squashing them around the vegetables with a wooden spoon until they wilt. Let the chicken rest for 5-10 minutes, then serve with freshly cooked white rice.

Extracted from: The Roasting Tin Around the World – Global One Dish Dinners by Rukmini Iyer (Square Peg, £16.99), out now.

Tip If you haven't cooked Korean food before, don't be intimidated by the Korean red pepper paste (gochujang) – it's available in big supermarkets now. For Korean fermented soybean paste (doenjang), which is like miso paste's assertive cousin, you'll need to go online or to a specialist supermarket, or use ordinary miso.