Salted caramel panna cotta
Serves
6
|
prep
30 mins
|
total time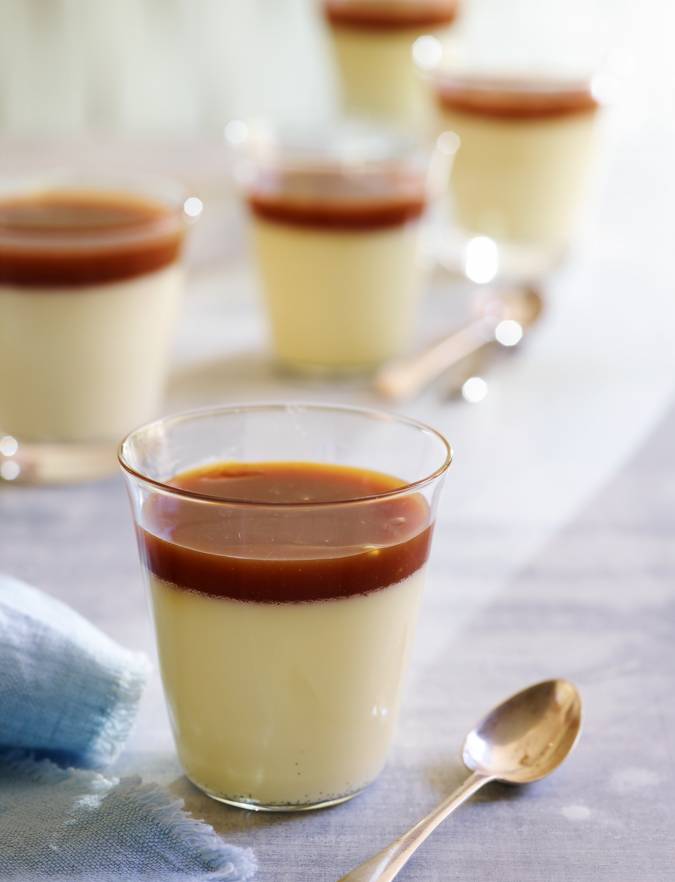 Salted caramel panna cotta
Serves
6
|
prep
30 mins |
total time
Ingredients
3 gelatine leaves

125ml Yeo Valley Organic whole milk

600ml organic double cream

100g organic golden granulated cane sugar

1 organic vanilla pod, split in half lengthways, seeds scraped out
For the salted caramel
100g organic golden granulated cane sugar

75ml organic double cream

40g organic unsalted butter

1 tsp flaky sea salt
Put the gelatine leaves in a medium bowl and cover with cold water. Let stand for 10 minutes, then remove the sheets, squeezing out any excess water. Set aside.

Meanwhile, put the milk, double cream, sugar, vanilla pod and seeds into a medium saucepan and bring just up to a boil over a medium-high heat. Reduce the heat to medium-low and simmer for 10 minutes, until slightly thickened, stirring occasionally. Remove the pan from the heat and discard the vanilla pod. Add the gelatine leaves and stir until the gelatine has completely dissolved. Cover the pan with clingfilm and leave the mixture to cool to room temperature – around 1 hour.

Divide the cooled panna cotta mixture between 6 small glasses and chill in the fridge for 3 hours, until set. You can leave them in the fridge for up to 2 days.

Around 1 hour before you want to serve the panna cotta, make the salted caramel. Put the sugar into a small, heavy-based saucepan along with 50ml warm water. Stir to combine and heat over a medium-low heat until the sugar has dissolved. Increase the heat to medium-high and continue to cook until deeply golden and caramelised. Remove the saucepan from the heat and carefully add the double cream and butter, swirling the pan to combine all ingredients. Return the pan to the heat for a further minute, then pour the caramel into a heatproof jug. Add the salt. Leave to cool to room temperature (it should still be pourable, but not hot or too solid).

Remove the panna cotta from the fridge and pour a little salted caramel over the top of each one. Serve immediately.