Taste of home with Bisto and Oxo
Gathering the family together over the Easter long weekend? Serve some hearty family pies flavoured with a couple of British classics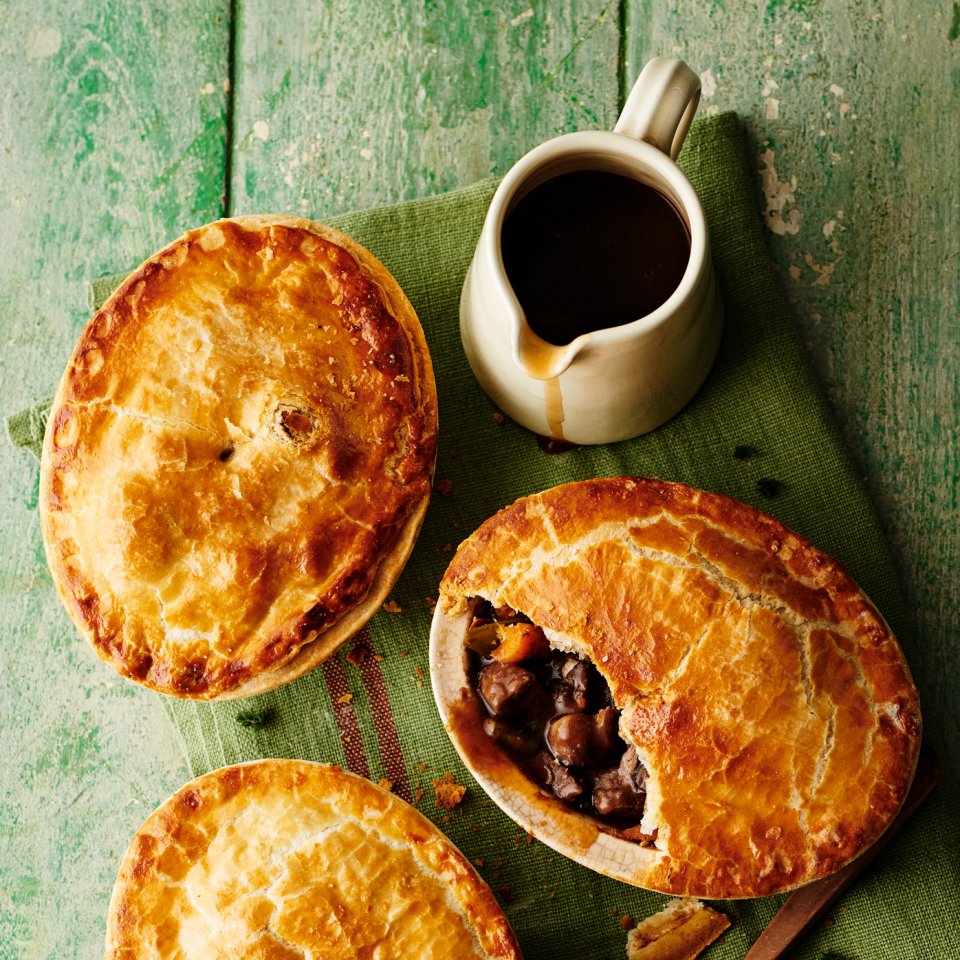 Beef, mushroom & spring veg pies
What could be more comforting than creating homemade pies for the family to enjoy when they all troop home for the Easter holidays? Ramp up the comfort factor even more by enhancing the flavours with the addition of some familiar family favourites. The nation's favourite gravy, made from Bisto Gravy Granules, and a hearty stock made from Oxo Beef Stock Cubes bring a depth of flavour to pie fillings – try them for yourself in these delicious springtime pies.
Beef, mushroom & spring veg pies
MAKES 4 Hands-on time 20 mins Total time 2 hours
2 Oxo beef stock cubes
1 tbsp olive oil
600g extra-lean diced beef
300g baby button mushrooms, halved
2 tbsp plain flour, plus extra for dusting
400g chantenay carrots, halved lengthways
10g fresh thyme sprigs, leaves stripped
100g mangetout, halved
500g block puff pastry
1 medium egg, beaten
4 heaped tsp Bisto Beef Gravy Granules, to serve
1. To make a beef stock, stir 1 stock cube into 650ml just-boiled water and set aside.
2. Heat the oil in a large pan. Brown the beef
in batches over a high heat, then add the mushrooms. Sprinkle over the remaining stock cube and the flour and cook for 1-2 minutes, then add the stock, carrots and thyme. Season and bring to the boil. Reduce the heat to a simmer, cover and cook for 1 hour 15 minutes, stirring halfway, until the beef is tender and the liquid has reduced.
3. Add the mangetout and simmer for 3 minutes, then spoon into 4 small pie dishes. Preheat the oven to 220°C, fan 200°C, gas 7.
4. Cut the pastry into 4 equal pieces. On a lightly floured surface, roll out each piece to a thickness of 3-4mm. Brush the rims of the pie dishes with beaten egg, then drape the pastry over the filling, trim off any excess pastry, and press to seal the edges. Brush the pastry tops with the remaining egg, pierce a hole in the centre to allow the steam to escape, and bake for 20-25 minutes, until the pastry is golden.
5. For the gravy, put the gravy granules in a jug, pour over 280ml just-boiled water and mix well. Serve alongside the pies.
Enjoy.