Butter them up: lamb haleem with Anchor for Ramadan
Haleem is a spicy dish that's popular during Ramadan. This version uses butter instead of ghee to make the caramelised onions that top it off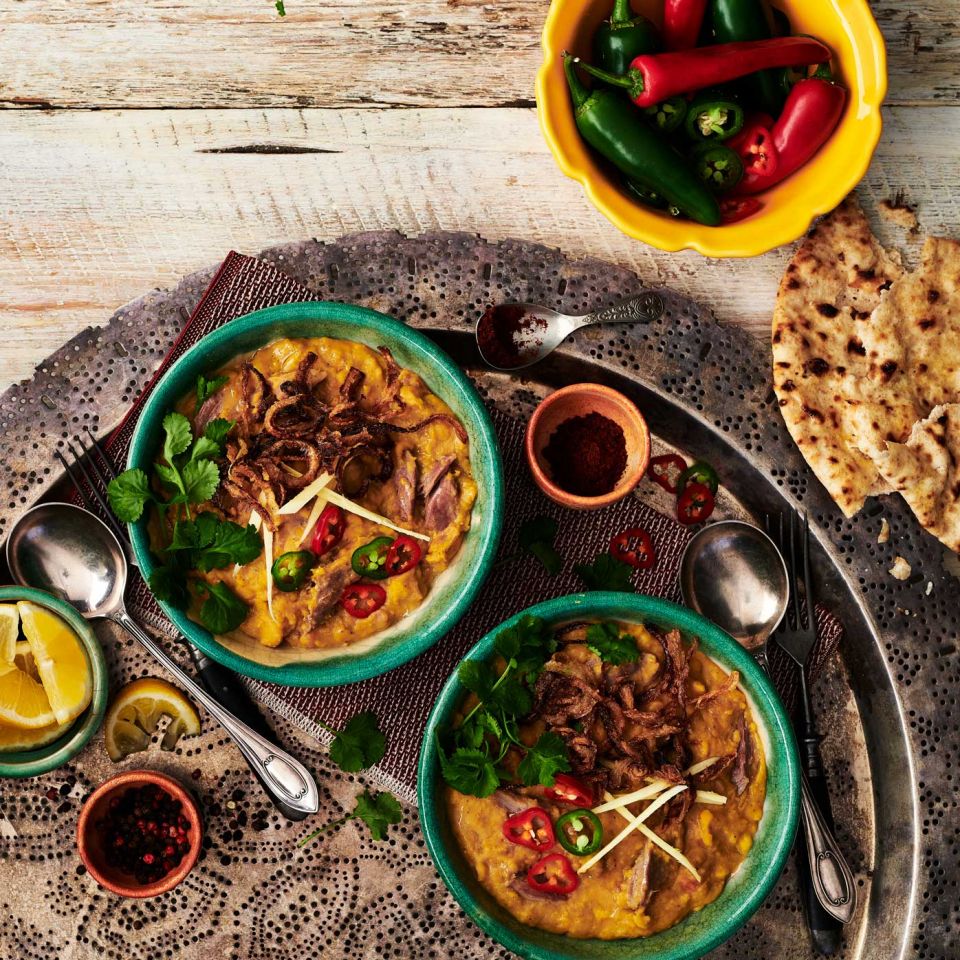 Lamb harleem
A tasty stew made from lentils, wheat, meat and spices, haleem is enriched with butter, to give it added flavour and to make it more sustaining for those fasting during daylight hours of Ramadan. Made to share with others, it's a 'soul food' that's both delicious and comforting. Discover what makes this dish so special by making it yourself. This version uses Anchor unsalted butter – made in the UK from 100% British milk and the perfect choice for cooking and baking.
Serves: 6
Hands on times: 20 mins
Total time: 2 hours 30 mins
400g chana dal, washed and rinsed
200g mung dal, washed and rinsed
1kg pack lamb shanks, excess fat trimmed
2 garlic cloves, crushed
3cm piece ginger, peeled andgrated (plus extra 3 slices, to serve, optional)
1.5 litres stock, made with 1 vegetable stock cube
75g Anchor unsalted butter
7 tbsps Madras curry paste
To serve:
60g Anchor unsalted butter, at room temperature
4 6 chapattis
1 onion, peeled and thinly sliced
plain flour
75ml vegetable oil
1 red and 1 green chilli, sliced
small bunch fresh coriander
2 lemons, cut into wedges
1. Put 200g of the chana dal and all the mung dal in a large lidded non-stick saucepan with the lamb, garlic, ginger and stock. Bring to the boil, cover loosely, and simmer for 1 hour 30 mins, stirring occasionally.
2. Take off the heat, remove the meat from the pan and allow to cool a little, then remove the meat from the bones. Return the meat to the pan.
3. Add the butter and curry paste, and stir until the butter has melted. Add the remaining chana dal and 750ml water, bring back to the boil, and simmer, loosely covered, for 45 minutes. Stirring occasionally until the second addition of chana dal is tender.
4. To serve, spread half the butter over the top of the chapattis, then warm in the oven according to pack instructions.
5. Meanwhile, dust the onion slices with flour. Heat the oil in a wok with the remaining butter, and fry the onion in batches until golden. Drain on kitchen paper. Garnish the haleem with the onions, chillies and coriander, and sliced ginger if using. Serve with the chapattis and lemon wedges.