Bowl over with Kikkoman and Tilda
Healthy comfort food doesn't get better than this: juicy prawns and vibrant fresh veg on a bed of fluffy rice mixed with a fragrant, flavourful sauce…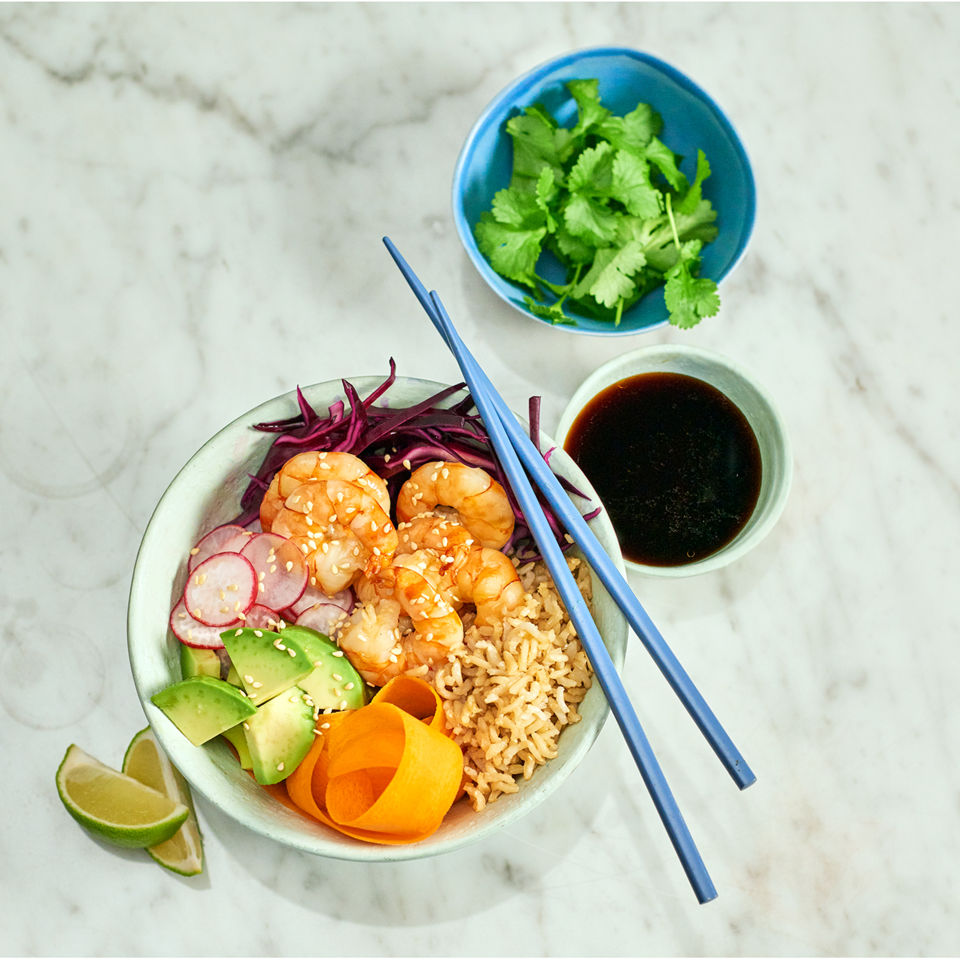 Bowl food is having a bit of a moment in the UK – and with little wonder. It's the ultimate comfort food: fast, fuss-free and full of flavour. The trick when building bowl food is to think in threes: start with a delicious grain base, top with a fresh combo of fish and vegetables, and finish with a flavour-packed dressing or sauce.
A star sauce
Kikkoman's new Poke Sauce, which has been created from a base of Kikkoman's naturally brewed soy sauce, is a savoury sauce made with fragrant toasted sesame oil, a hint of lemon juice and a dash of spicy chilli.
A nice rice
Nutty and wholesome Tilda Wholegrain Basmati rice is the perfect base for bowl food. It's super tasty and ideal for soaking up all the flavours of the toppings and sauce. What's more, it's a source of fibre, making it the perfect nutritious accompaniment for this recipe, right, and all your favourite dishes.
Prawn poke bowl
Serves 2 Hands-on time 20 mins Total time 20 mins
250g pouch Tilda Microwave Wholegrain Basmati Rice
4 tbsp Kikkoman Poke Sauce, plus extra to serve
150g red cabbage, shredded
tsp sugar
2 tbsp rice wine vinegar
150g cooked and peeled tiger prawns
1 avocado, halved, stoned removed, peeled and chopped
2 tsp lime juice
4 radishes, trimmed and thinly sliced
1 carrot, peeled into thin ribbons using a vegetable peeler
2 tsp sesame seeds, lightly toasted
Fresh coriander sprigs and lime wedges, to serve
1. Microwave the rice to pack instructions, then tip into a bowl and stir in half the poke sauce. Set aside to cool.
2. Meanwhile, combine the cabbage, sugar and vinegar in a small bowl. In a second bowl mix the prawns with the rest of the poke sauce. Toss the avocado in the lime juice.
3. Divide the cooled rice between 2 serving bowls. Top with the cabbage, avocado, radishes, carrot and prawns. Scatter over the sesame seeds and serve immediately with the extra sauce, coriander and lime wedges. Enjoy.